What is ERP Software?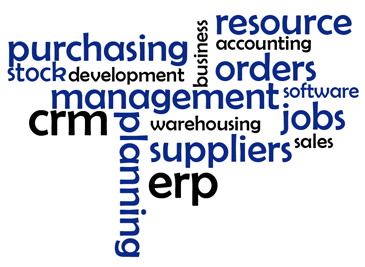 Nottingham based ERP software developers BlueStar have many years experience in developing business software. The acronym ERP stands for Enterprise Resource Planning. ERP software allows businesses to automate back-office functions through a single software platform. Efficiency savings from using ERP software means that labour can be used for promoting other areas of the business such as sales and marketing thus increasing sales and also customer satisfaction.
ERP Software can help your business by improving the efficiency of the following areas:
Accounting
CRM
Customer Portal
E-commerce
E-Marketing
Job Planning and Scheduling
Purchasing
Sales Orders
Stock Control
Suppliers
Warehousing
Single Platform
With a single software platform all your data is accessible in one place. Reports can show data accumulated from across the whole business not just from a specific area.
Bespoke ERP
BlueStar develop bespoke ERP software. This means that the software is written for your business. It works around you and your business processes not the other way around. We follow your existing processes as closely as possible so staff training and disruption is kept to an absolute minimum.
Browser Based
Our ERP software runs through a web browser so there is no software to install keeping implementation to a minimum. There's no need to install VPN software either, you simply go to a secure web address and log on using your credentials.
Multi-Level Hierarchy
Our bespoke ERP software features a multi-level hierarchy so users only have access to what features they need and areas containing important or sensitive information are closed off. All of this is easily customisable by the administrator and requires no programming.
Integration
BlueStar can integrate with accounting packages such as Sage and Kashflow and APIs such as eBay. Many other systems may be incorporated into your ERP software using APIs.
To find out how we can help your business call our Nottingham office now on 0115 871 3111!